The Emmy winner shares how she lost the baby weight, how she deals with Hollywood's forever-young pressure, and what her ideal workout is.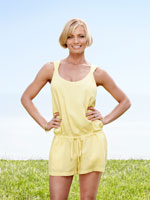 Jamie Pressly
Jaime Pressly, 32, sits on the balcony of her Los Angeles home, looking incredibly content. No surprise: Pressly—who won an Emmy for her role on My Name Is Earl and is at work on a new TV pilot—is loving life with her husband of eight months, Simran Singh, and son, Dezi. Here, she shares how she lost the baby weight, how she deals with Hollywood's forever-young pressure, and what her ideal workout is. (It's so not yoga!)
Q: Last fall, you took the plunge and got married. How did you know that Simran was The One?
A:
I just knew. It was like,
Oh my god—there he is.
There was a feeling of security that I hadn't felt with anyone else. But we're polar opposites—he's quiet, and I'm the talky pants. He's a lawyer, and I'm like the crazy client he has to represent. We work well together.
Q: Your husband is a vegetarian and you're not. Have your eating habits changed as a result?
A:
I eat a lot less red meat. And believe me, I'm from the South—I love meat and potatoes. I'm good at cooking fish, but I'm also good at cooking sauces because I'm Southern, and sauces are our thing.
Q: Are sauces partly why you gained 42 pounds while pregnant?
A:
Yeah. I didn't care. It was the first time in my life I could eat whatever whenever I wanted, and I did. Honey, I ate everything I could see.
Q: How long did it take you to lose the weight?
A:
Three months. But I lost the first 32 pounds by my 30th birthday, which we celebrated in Vegas. We had pool parties, and I was not about to be chunky. I did the cabbage soup diet twice in a row. It lasts six days, and you eat cabbage soup three to four times a day. But one day, you can also eat up to eight bananas.
Q: Did you really eat eight bananas?
A:
I did, because I was breast-feeding and hungry. On the third day, you're so excited because you get half a baked potato. You can have any size potato, so I was at the store trying to find the jumbo ones. I was like,
Where are the ones that they genetically made ginormous?
I was also working out two hours a day—you have to work out.
Q: What's a typical workout for you?
A:
I get bored easily, so my trainer, Mike Jones, introduced me to the [suspension training system] TRX. It's two handles you can attach to a bar or a doorway. You use your body weight for resistance. We also do abs, plus 150 to 200 squats. We work the inner and outer thighs, the quads, the hamstrings. I enjoy feeling the burn and pushing myself.
Q: Are there any fitness trends you regret trying?
A:
I am not a yoga person. They say it would be good for me because I'm a Type A person, and it would relax me, but I like action. Yoga's too Zen for me!
Q: How do you deal with the pressure to stay young and beautiful in Hollywood?
A:
I've never felt that pressure. Part of that is because I know myself. I'm someone who likes to be in shape because it makes me feel good. But I eat junk food, too.
Q: Is there a beauty product you can't live without?
A:
My La Mer moisturizer. Also, my St. Ives facial scrub that I've been using for 12 years! And L'Oreal Voluminous mascara.
Q: Any more kids in your future?
A:
Not right this second, but definitely. One or two more.
Q: Whose body do you covet in Hollywood?
A:
When I think of legs I always think of Shirley MacLaine on Broadway. She's always been one of my idols because she's funny, sassy, ballsy, smart, spiritual.
Q: Is there anything wrong with plastic surgery?
A:
I believe in the saying, "To each his own." Who knows, when I'm 56 years old I may want to change something. I don't want anyone to judge me, so I'm not going to judge them.